Our guide to dermal fillers
As we age gracefully our bodies naturally change. These differences can be visible, like fine lines and wrinkles on the face. This is where dermal fillers fill in the gap- the go-to treatment for ageing skin.
What exactly are dermal fillers?
A dermal filler treatment is an aesthetic procedure injecting a soft gel-like filler substance (dermal filler) into targeted areas beneath the surface of the skin. The dermal filler acts as a replacement for the lost fat and helps to restore our skin to its former youthful appearance.
What are they made of?
In most cases, the filler substance is made of hyaluronic acid, which helps reverse these signs of ageing by lifting the wrinkle.
What are the common areas of the body people get dermal fillers?
Dermal fillers can be used to improve the appearance of a variety of body parts. Dermal fillers function by replenishing the volume of the skin that has been lost as a result of the ageing process.
Hands: When applied to the hands, this can reduce the visibility of visible bones, tendons, and veins. Simultaneously, it provides the hands with a more youthful appearance.
Décolletage/chest: Hyaluronic acid is the most popular filler used in this area since it restores moisture and so decreases the appearance of crepey skin.
Feet: They can be injected into the soles of the feet to relieve the aches and pains that come with longer periods of wearing high heels. They can improve the appearance of bony feet by adding volume and concealing conspicuous tendons, bones, and veins.
Face: Dermal fillers can smooth outlines around the nose and mouth (for instance: marionette lines, smile lines, and parentheses). Improve the appearance of sagging cheeks or temples by adding volume. Vertical lip lines can be reduced. Lips can be plumped and enhanced. A chin crease can be smoothed out. Also, it can enhance the symmetry of facial characteristics.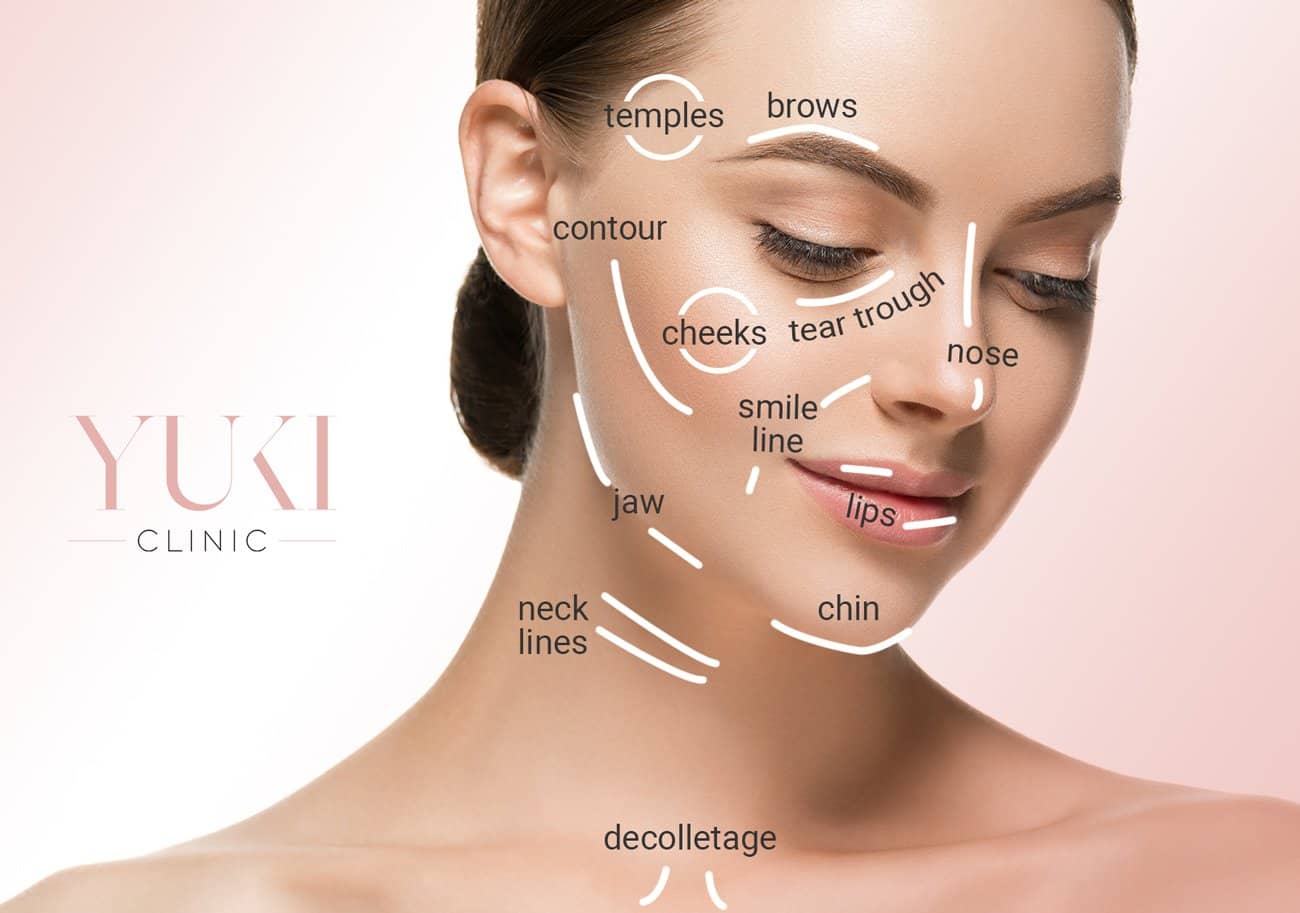 How long do they last?
Generally, most fillers last around six to nine months, with the exact time depending on the area applied and the individual patient. It also depends on the individual as some patients break down fillers faster than others. It also depends on how well the patient practices the aftercare advice.
Results are seen instantly after the treatment, although this gradually improves over the following 2 to 4 weeks. Results can last between 9-18 months although optimal results can be maintained over a long time through regular repeated treatments. The longevity varies from person to person depending on your requirements and the severity.
What are the benefits of dermal fillers?
Dermal fillers can treat different areas and features of the face. The procedure is bespoke and tailored to your desired results, needs, and safety. Results are instant so you can see how much you like the treatment as it progresses and can request a more dramatic effect if desired at the time of treatment. Dermal fillers can enhance, improve, balance and compliment the face structure and other facial features. Most importantly, your confidence can improve and the way you feel about your appearance. Also, minimal downtime and reversible if needed.
All in all, dermal fillers are the go-to treatment for ageless skin. Performed by professional board-certified practitioners, you can have the best youthful complexion. Dermal fillers can be treated on Nasolabial lines or folds, smile lines, lips, cheeks, nose, deep forehead wrinkles, frown lines, crows feet and wrinkled hands. Dermal fillers may be used to replace volume loss and restore the structural support, giving the patient a more youthful appearance.
Why you can trust The Yuki Clinic
Highly Skilled Professionals:
The Yuki Clinic only allocates practising privileges to medical professionals who have prescribing rights. So your treatments will only be performed by cosmetic surgeons, aesthetic doctors or nurse practitioners. Professionals such as these can, consult, prescribe, treat, and manage your safety and care.
Service & Care:
The safety and wellbeing of our patients are most important to us. We create an experience that goes beyond your treatment with your clinician. Your patient journey begins with booking your appointment right through to your aftercare. With a strong passion and wealth of experience in the aesthetics industry, our team looks forward to welcoming you to Yuki Clinic.
FDA Approved Products:
For all of our treatment's we use only premium and FDA approved products. All skincare products are medical grade and require a prescription through consultation with one of our medical professionals.
Patient Satisfaction:
The heart of our clinic is our patients. Receiving positive feedback is the most rewarding award we can receive. At the Yuki Clinic, we take all feedback very seriously and use this to help improve our treatments and services.
Clinic Location:
Located in the heart of Oxford Circus, you'll find The Yuki Clinic right next door to Top Shop, All Saints and Urban Outfitters. Across the road from the clinic, you'll find the world-renowned Elan Café. Elan Café is the perfect spot to grab a coffee and a cake before a treatment.
The nearest tube station is Oxford Circus, London. After you exit Oxford Circus Station, cross Oxford Street and walk 2 minutes to the clinic. So easy!