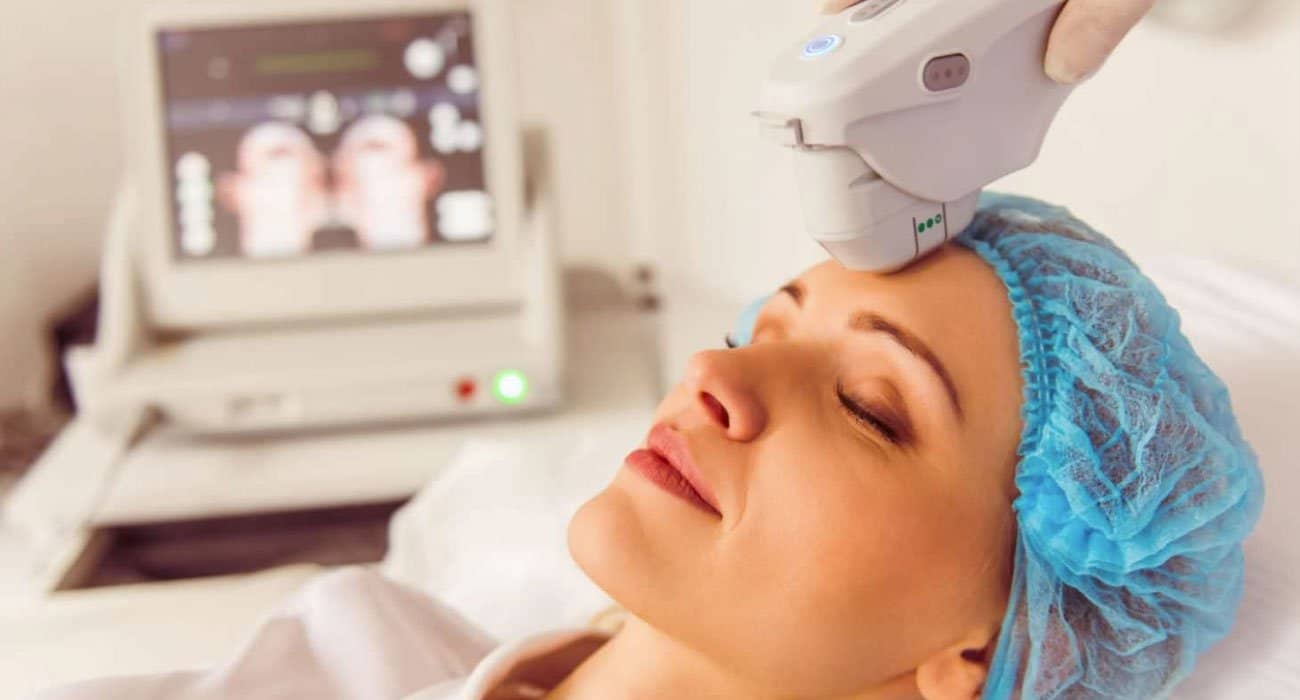 Is a HIFU Facial Treatment Safe for My Skin?
What is a HIFU Facial?
The goal of the HIFU anti-ageing facial is to increase skin firmness, collagen synthesis, and suppleness. Collagen and elastin production reduces as we age, and this loss of collagen manifests as facial drooping, skin laxity, crepey skin, and wrinkles.
How does a HIFU Facial work?
To improve the appearance of ageing skin, HIFU stimulates the creation of collagen and elastin. The Focus Dual is one of the few therapies that can reach the superficial musculoaponeurotic system (SMAS). Collagen synthesis is boosted and deeper layers of collagen fibres are tightened. The result is a natural-looking lift with almost little downtime.
Is HIFU Facial suitable for me?
The Focus Dual HIFU face treatments are safe and effective for almost everyone. Due to the nature of this advanced skin treatment, certain patients are unable to be treated. No one should be treated if they have an active skin infection, open wounds, or evident acne lesions in the treatment region. This treatment is not available to people who have pacemakers or other electronic implants, and it is also not available to women who are pregnant. This is one of the most effective London aesthetic treatments to target signs of ageing.
What do I need to know and expect?
The Focus Dual HIFU facial treatments have few drawbacks; the safety profile is outstanding, and the results speak for themselves.
You may experience tingling or slight discomfort during treatment. After treatment, you may see facial redness and swelling, which is a sign that the therapy was successful and normally lasts for 24 hours.
Side effects are uncommon, but some may experience tingling for a few days to a week after treatments, as well as bruising or numbness, which will fade with time.
Following the treatment, it is critical to take care of your skin. A good SPF is recommended.
Where can I find this treatment?
You can find this facial at most London Beauty Clinics. It is carried out by professional practitioners utilising the Focus Dual, medical-grade equipment that is both safe and effective. On the face, the practitioner uses the non-invasive HIFU technique to raise facial tissue and improve skin texture and tone. Treatments result in an unequalled boost of collagen and elastin for drooping face tissue with Focus Dual, our newest non-surgical skin tightening solution.
How is the HIFU Facial safe?
High-intensity focused ultrasound (HIFU) is a non-invasive anti-ageing treatment for lifting, firming, and tightening sagging facial skin that is both safe and effective. The Focus Dual is Medically CE Certified, which means it meets the European General Medical Devices Directive's criteria. This ensures a safe treatment for you. This accreditation also assures you that only the highest-quality medical-grade equipment is being used, that they are readily available, and that they meet the strictest safety requirements.
The Focus Dual's Safety Assist Transducers (SAT) output high-intensity ultrasonic waves in a specific manner that eliminates undesirable overlap in the surface tissues. The safety assist transducers transmit ultrasonic energy to a narrow focal spot where high temperatures promote tissue coagulation, protecting non-targeted tissues in the process. This ensures a reduction in discomfort and downtime.
Why you can trust The Yuki Clinic London
Highly Skilled Professionals:
The Yuki Clinic only allocates practising privileges to medical professionals who have prescribing rights. So your treatments will only be performed by cosmetic surgeons, aesthetic doctors or nurse practitioners. Professionals such as these can, consult, prescribe, treat, and manage your safety and care.
Service & Care:
The safety and wellbeing of our patients are most important to us. We create an experience that goes beyond your treatment with your clinician. Your patient journey begins with booking your appointment right through to your aftercare. With a strong passion and wealth of experience in the aesthetics industry, our team looks forward to welcoming you to Yuki Clinic.
FDA Approved Products:
For all of our treatment's we use only premium and FDA approved products. All skincare products are medical grade and require a prescription through consultation with one of our medical professionals.
Patient Satisfaction:
The heart of our clinic is our patients. Receiving positive feedback is the most rewarding award we can receive. At the Yuki Clinic, we take all feedback very seriously and use this to help improve our treatments and services.
Clinic Location:
Located in the heart of Oxford Circus, you'll find The Yuki Clinic right next door to Top Shop, All Saints and Urban Outfitters. Across the road from the clinic, you'll find the world-renowned Elan Café. Elan Café is the perfect spot to grab a coffee and a cake before a treatment.
The nearest tube station is Oxford Circus, London. After you exit Oxford Circus Station, cross Oxford Street and walk 2 minutes to the clinic. So easy!