Aesthetics
dermal fillers
Dermal Fillers are injected into the soft tissue of the skin, the injections are at different depths depending on the area that is being injected. Injectable dermal fillers help fill in facial wrinkles and deep grooves to provide facial volume, and augment facial features, they can also restore a smoother appearance and promote new collagen production. All dermal fillers used in the clinic are temporary and will eventually be absorbed by the body.
The dermal fillers used by the clinic consist of hyaluronic acid, a naturally occurring polysaccharide that is present in skin and cartilage. Patients may need more products than other patients to achieve the desired result this can be discussed with your practitioner.
Hyaluronic Acid dermal fillers are a clear sterile gel in a syringe for injection into the skin providing instant correction. Hyaluronic acid attracts and binds water in the skin, providing volume and hydration, but also 'cushioning' and supporting collagen and elastin fibres and providing a medium, or carrier, for chemical messages between the cells.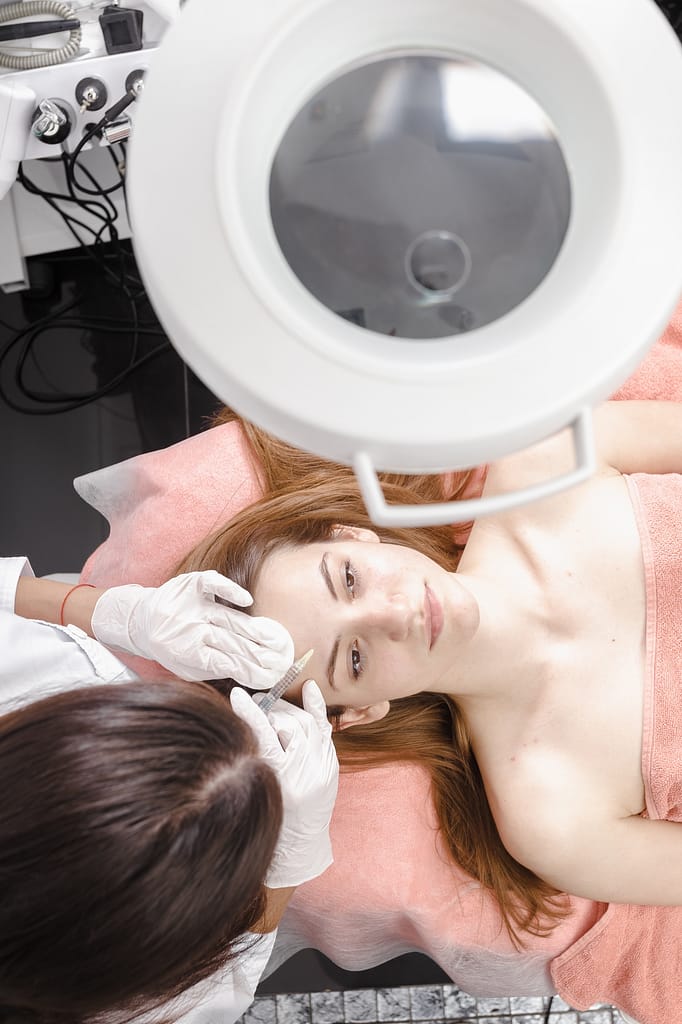 TREATMENT
Dermal fillers London
The Treatment
Treatment Areas
The treatment can be performed on areas with stubborn fat including the thighs, stomach, bottom, saddlebags, and back fat. It can also be performed on small areas such as the arms, knees, face, man boobs, eye bags and double chin. It can even help to treat lipomas (fatty lumps within the skin).
Expected Results
The results from dermal filler injections are instant, however, you will almost instantly experience swelling in the area but don't worry this is completely normal for patients.
Swelling may worsen in the first 24 hours and then should settle within the first few days. Cold packs can be helpful in reducing swelling. Because of the swelling, the product may feel harder or lumpy and you may notice some asymmetry.
The result may be judged at 2-3 weeks. 
Why Us
Professional • Passionate • Experts
FAQ
Does it Hurt?
When having Dermal filler Treatments injected you may experience minor pain, the area will go numb very quickly as all Dermal Fillers used to have a local anaesthetic in them called lidocaine, this will help with your comfort while your treatment is being done. Following treatment, you may experience tenderness in the area but that will fade over the following 3-5 days. 
After Treatment?
Bruising is rare but can happen, bruising may take a few days to appear, this is nothing to worry about. Some patients are prone to bruising more than another arnica can be helpful in clearing bruising, you can get this medication from your local pharmacy. It is advisable to avoid aspirin and alcohol for 12-48 hours after treatment. Tenderness should settle as swelling goes down. Make-up should not be worn for 12 hours.
How long will it last?
Dermal filler results can last 6 to 18 months depending on the area and the patient, it is important to know, different patients respond to treatments differently and the time frames for the length of your filler treatment can vary. Results depend on the health of the skin, the correct product used for the area, and the type of filler used, your practitioner will go through this at your consultation.
If you choose not to maintain the results with further treatment, your skin will return to its pre-treatment state over time, however, whenever you inject dermal fillers into the skin this will create new collagen activity which is always an anti-aging bonus.
IS A COURSE OF TREATMENT REQUIRED?
This would all depend on the treatment you decided to have. Many skin boosters and hydration treatments like Profhilo will need more than one treatment to get the best results. Your practitioner will discuss treatment options with you and formulate a bespoke treatment plan to get your desired look and maintain health and youth in the skin.
Who generally has this treatment?
Dermal Filler treatments, can enhance or slightly change the shape of your face, so treatments can be administered to anyone over the age of 18. Dermal Fillers are often sorted out by patients for many different reasons not only for enhancement but also for minor corrections or facial contouring.
Get on the list, always great news for coupons and discounts
Why Us
Professional • Passionate • Experts
WHY YOU CAN TRUST THE YUKI CLINIC
Highly Skilled Professionals:
The Yuki Clinic only allocates practising privileges to medical professionals who have prescribing rights. So your treatments will only be performed by cosmetic surgeons, aesthetic doctors or nurse practitioners. Professionals such as these can, consult, prescribe, treat, and manage your safety and care.
Service & Care:
The safety and wellbeing of our patients are most important to us. We create an experience that goes beyond your treatment with your clinician. Your patient journey begins with booking your appointment right through to your aftercare. With a strong passion and wealth of experience in the aesthetics industry, our team looks forward to welcoming you to Yuki Clinic.
FDA Approved Products:
For all of our treatment's we use only premium and FDA approved products. All skincare products are medical grade and require a prescription through consultation with one of our medical professionals.
Patient Satisfaction:
The heart of our clinic is our patients. Receiving positive feedback is the most rewarding award we can receive. At the Yuki Clinic, we take all feedback very seriously and use this to help improve our treatments and services.
Clinic Location:
Located in the heart of Oxford Circus, you'll find The Yuki Clinic right next door to Top Shop, All Saints and Urban Outfitters. Across the road from the clinic, you'll find the world-renowned Elan Café. Elan Café is the perfect spot to grab a coffee and a cake before a treatment.
The nearest tube station is Oxford Circus, London. After you exit Oxford Circus Station, cross Oxford Street and walk 2 minutes to the clinic. So easy!